Oppo BDP-105D Universal 3D Blu-ray Player
(Sold)
The BDP-105D will make the most of virtually any disc you throw at it. 3D and standard Blu-ray movies look amazing. 2D Blu-ray discs and DVDs can even go three-dimensional thanks to the BDP-105D's new 2D-to-3D conversion. Movie soundtracks will reach new heights as this player delivers the latest audio formats like Dolby® TrueHD and DTS-HD® Master Audio™ with crystal-clear detail. Music will sound fresh and new, especially if you have high-res stereo and multichannel DVD-Audio and SACD discs, which will truly sparkle with the BDP-105D.
In excellent condition, with original remote control and accessories.
Click here
for more info.
Click here
for full review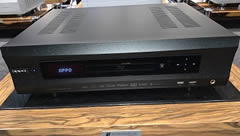 Shunyata Venom 3 15A 1.5m
(Sold)
The world's most effective and best-selling aftermarket power cable, Shunyata Venom 3 offers exponential improvement over any stock cable. Built from better metal, with better shielding, and improved conductivity, Venom 3 has it all. Most importantly, this Product of the Year Award-winning cable offers unbeatable performance at a price most music lovers can afford.
In near mint condition.
Click here
for more info.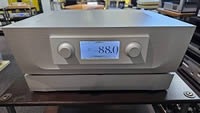 Aesthetix Callisto Linestage Preamp
(Sold)
Calypso is an all-tube linestage suitable for audio and home cinema systems. Fully balanced circuitry from input to output, including internal balancing of single-ended inputs, results in common mode signal rejection and cleaner sound. The innovative discrete switched resister volume control maximizes resolution at any listening level. Every input is both single-ended and balanced for greater versatility.
• Fully balanced differential circuitry with ability to internally balance a single ended input signal.
• Zero feedback.
• Discrete switched resistor volume control with 88 1dB steps.
• All tube amplification and output (4 tubes total).
• Two sets of XLR and two sets of RCA outputs per channel.
• Absolute phase, selectable via front panel or remote control.
• Full function remote included.
Very well maintained and in near mint condition! Comes with fully functioning remote control.
Click here
for more info.
Click here
for full review
Click here
Absolute Sound Editor's Choice Award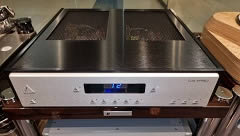 HRS S1-1719 Isolation Platform
(Sold)
The S1 Isolation Base is a highly innovative design that eliminates noise revealing a new level of musical performance. It is manufactured from four different materials including a proprietary resonance control stage with billet machined aircraft aluminum trim and inlay.
The broadband noise reduction system in the S1 maximizes performance and is highly effective on a wide range of surfaces and structures.
In absolutely mint condition and looks like new. Includes original packaging. Comes with Blue Dot footers.
Click here
for more info.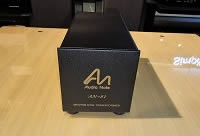 Bassocontinuo 3 Tier Hifi Rack
(Sold)
Ever since the company was founded, Bassocontinuo has understood the importance of designing and building racks that are at the same time functional as well as aesthetically appealing.
For this reason, before the market launch of each line, we have always performed both static tests (to certify the load capacity of any single shelf and verify its deformation behaviour under load) and dynamic tests (to understand the rack's capability to absorb vibrations – how strong and at which frequencies).
Custom designed 3 tier rack based on the ZEN line with 4 anti-resonance pads on the top shelf. Imported from Italy.
Dimensions:
L - 231 cm
D - 60 cm
H - 55 cm
PLEASE NOTE! Item for sale is the rack only. All other items in the photos are not included.
Click here
for Bassocontinuo website.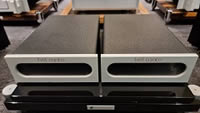 Silbatone S.E.A. represents the following brands: Silbatone Acoustics, PS Audio, Audio Solutions, Audience, Bryston, Reed, Kronos, Gershman Acoustics, Audio Philar, My Sonic Lab, G.I.P. Laboratory and Flux Hifi.

JL Audio Fathom F113 V2
(Sold)
The Fathom f113v2 is a heavyweight subwoofer capable of filling the most demanding rooms with powerful low-frequency output and reference-class sound quality. The combination of an ultra-long throw W7 13.5-inch driver and a very powerful switching amplifier give it the kind of output normally associated with far larger subwoofer systems.
Hardly used and in "like new" condition. Comes with all accessories and owner's manual Latest version.
Click here
for more info.
Click here
for full review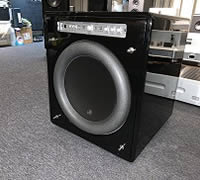 JL Audio E112 Subwoofer (high Gloss Black)
(Sold)
Powered Subwoofer with 12-inch Subwoofer, 1500 watts
Applying a series of our key technologies, E-Sub powered subwoofers deliver exceptional sound quality, power and value in a wide range of demanding applications
E-Sub drivers employ our exclusive DMA technology to optimize the drivers' motor strength, ensuring linear behavior over a very long excursion range. Unlike typical steady-state modeling systems, DMA takes into account the dynamic shifts created by current flow and back EMF under real power conditions, with real program material. The payoff offered by DMA optimization is a driver that faithfully tracks its input signal, at all listening levels, leading to superior bass definition and dynamics.
In mint condition. Comes with front grill and owner's manual.
Click here
for more info.
Click here
for full review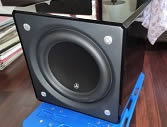 Audience Ohno 3 Speaker Cables 2.5m
(Sold)
Audience OHNO cables are designed to achieve the very highest level of performance at an entry level price. OHNO cables are named after Dr. Atsumi Ohno who invented the method of manufacturing mono-crystal wire, a highly sophisticated process of producing wire without the crystalline barriers found in all conventional wire. Whereas copper typically exhibits thousands of crystals per meter, as audio signals move through this maze, energy is lost at every crystalline juncture. OHNO copper is a single crystal providing an unobstructed path for transmission of the purest audio signal. OHNO cables are made with XLPE (cross linked polyethylene), one of the very best insulation for high end audio cables.
In excellent condition, with original box.
Click here
for more info.
Click here
for full review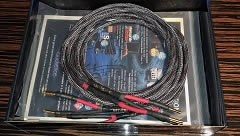 Vicoustic Super Bass Extreme Ultra
(Sold)
Super Bass Extreme Ultra's elegant wooden front is based on Vicoustic's flagship Wavewood panel. Appropriate for corner mounting, it provides effective low frequency absorption between 60-125 Hz, and delivers maximum effectiveness between 75 -100Hz. The wooden front panel has two functions, providing sufficient mid-high frequency absorption to control corner reflections without deadening the sound, while simultaneously acting as a diffuser.
When the sound pressure is at its maximum, Super Bass Extreme Ultra's internal membrane transforms high-pressure fluctuations into air motion. The membrane sympathetically vibrates over a frequency range of 75-100 Hz, causing the air to pass through a layer of high-density foam absorbing the low frequencies.
Highly recommended for smaller rooms with low frequency issues, Super Bass Extreme Ultra can be used in different corner positions. Besides its aesthetics, it's extremely practical, with a modular structure allowing further units to be added as intended.
Matt white finish, in excellent condition. 3 sets of 2 available. Price quoted below is for a set of 2 pcs.
Click here
for more info.
Vicoustic VicTotem Ultra VMT Acoustic Panels
(Sold)
VicTotem represents a new and revolutionary solution for acoustic treatment. VicTotem is a free standing, variable acoustic treatment product which can provide absorption, diffusion and bass management and any mix thereof in one and the same product. It can be placed freely in any room, in any combinations and it can be repositioned and changed for different acoustic environments. It is also a fantastic product for demo rooms, roadshows, clinics and trade shows. For Hi-Fi and Home Cinema users, it is an incredible flexible system that can change with upgrades to your system and can be adapted to new needs.
This versatile product was designed to act as a bass trap (when placed on room corners) and it can also be used as a free-standing element to control reflections.
Main Info
. Dimensions: 1845 x 595 x 366 mm
. Scratch Resistance: Yes
. Washable: No
. Raw Material: PET Wool, MDF, Melamine
In near mint condition. 2 units available.
Click here
for more info.