Pre-owned Sales
The following products are available for sales and they can be inspected at our showroom. For sales queries, please contact
Cecil Tan (96176046)
. All prices listed are in Singapore Dollars (SGD), unless otherwise stated. This website is managed by Silbatone S.E.A. Read our
Terms & Conditions
for your reference.
Updated:
24 Jun 2021
View Sold Products
Pre-owned Search&nbsp&nbsp&nbsp
Audio Note AN-J/LX with Matching Stands
The AN-J is a ported enclosure with an efficiency better than 93 dB/m and bass that goes down to 25 Hz at -6 dB. The AN-J is capable of reproducing the scale and intensity of most well-recorded music very realistically.
Like all our other loudspeakers, the AN-J undergoes the same painstaking driver selection and matching process, which ensures the closest tolerances within a pair in the entire audio industry.
In near mint condition, with matching speaker stands and original boxes.
Click here
for more info.
Click here
for user comments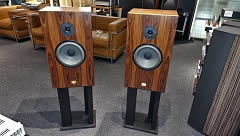 Retail Price:
$6,500
Price (SGD):
$3,500
Shun Mook Ebony/Maple Board
Shun Mook Ebony Board dimensions w 475 x d 444 x h 50 mm. Weight 7 kg.
Materials: Mpingo and Gabon ebony, Canadian maple.
All Shun Mook products are working on principles of sympathetic resonance. Material is selectively chosen for their highest, instrument building grade quality. All products are tuned to perform in full audible range.
Click here
for Shun Mook website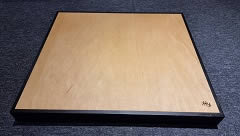 Retail Price:
$1,150
Price (SGD):
$550
Synergistic Research Galileo SX Phono 1.25m
Galileo SX Phono is the most complex phono cable we've ever attempted. With 4 x Air Strings RCA and an incredible 6 x Air Strings XLR, Graphene- a near superconductor at room temperature, Silver and Gold UEF Filters voiced expressly for Galileo Phono cables that work outside the signal path allowing you to switch between a warm and detailed balance, state-of-the-art silver SR20 RCA's and XLR's, High Definition Ground Leads that ground shields and noise direct to ground- not your system, 2 x UEF EM Cells made from precious metals, graphene, and UEF Tech with a silk dielectric, and Pure Six Nines Silver in an Air Dielectric, you hear every nuance from your treasured vinyl with breathtaking clarity and musicality.
Compared to Atmosphere UEF music flows with greater ease in a more holographic soundscape. And thanks to the same UEF Technology that makes SR BLUE fuses so musical, you'll rediscover your music collection with an unparalleled realism that elevates even your less than audiophile grade pressings.
In near mint condition, with original box and 2 pairs of tuning bullets included.
Click here
for more info.
Click here
for review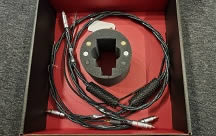 Retail Price:
$6,990
Price (SGD):
$3,500
Harmonic Tech PRO-AC11 CL-3 Power Cord 1.5m
If you are looking for more transparency combined with less coloration and distortion from your electronic components, this is an upgrade that will blow you away! Although relatively inexpensive, the Pro-AC11 will allow your components to sound like much more expensive ones, and if you already own the best electronics money can buy, you definitely need these power cords!
Click here
for more info.
Click here
user comments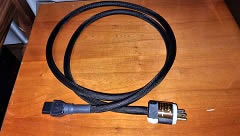 Retail Price:
$420
Price (SGD):
$160
Shun Mook Ultra Diamond Resonators (set of 3)
This is a totally new approach to "Mechanical Grounding". This 3.75" to 4" diameter x 1.75"h body is made with from black African ebony with a 3/8"dia shank and tipped with a 1/4 carat natural diamond. This patented design contains a large volume of ebony reservoir for filtering distortions while the natural diamond allows for the instantaneous escape of unwanted vibrations, the resonating properties of this ebony when excited by the electromechanical energy will enhance the musical quality of its audio reproduction.
These matched sets are recommended for all Pre-amp and Power amps, especially the very heavy units weight up to 200 lbs, Using these will instantly expand the sound staging and increased separation, Tonal balance of the music will be much richer and hence a major step of improvement.
In excellent condition, with matching bases. Set of 3
Click here
for more info.
Click here
for user comments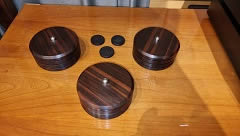 Retail Price:
$4,450
Price (SGD):
$2,400
Silbatone S.E.A. represents the following brands: Silbatone Acoustics, PS Audio, Audio Solutions, Audience, Reed, Kronos, Audio Philar, My Sonic Lab, G.I.P. Laboratory and Flux Hifi.

Audio Analogue Fortissimo
The Fortissimo Integrated Amplifier is the newcomer in the Audio Analogue ArmoniA line. It shares the line philosophy: maximizing value for money. But not only! The Fortissimo Integrated Amplifier further develops our concept about what an integrated amplifier is. In fact, we believe that the integrated amplifier has to be the interface between the loudspeakers and many different audio systems guaranteeing the best audio performance at all times.
In excellent condition, with full function remote control. Features built-in DAC and phono stage.
Click here
for more info.
Click here
for owner's manual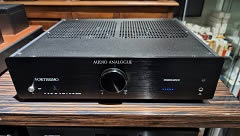 Retail Price:
$3,380
Price (SGD):
$1,650
JBL Studio 590
Experience all the power and emotion behind your favourite movies, concert discs, and music CDs with the JBL Studio 590. This potent floor-standing tower speaker takes advantage of pro-audio technology developed by JBL engineers to deliver dynamic, full-bodied sound that can fill even the largest listening rooms with concert-hall realism.
. Dual 8-Inch (200mm) Low-Frequency Transducers with PolyPlas cones
. 1-Inch (25mm) High-Frequency Compression Driver
. Glass-filled ABS Bi-Radial High-Frequency Horn
. 3/4-Inch (19mm) ultra-ridged MDF Enclosure
. Exclusive Design
In mint condition and looks like new!
Click here
for full review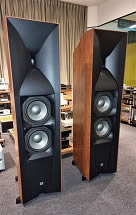 Retail Price:
$2,900
Price (SGD):
$1,350
Monitor Audio Silver 300
The full three-way design delivers class-leading mid-range, while a pair of long-throw 6-inch bass drivers work together to produce incredible power from the tall, but slim cabinet design, making it the perfect choice for serious audiophile and AV installations.
The three-way configuration allows each driver to be optimised to do a better job over a narrower frequency band; the only real way to deliver elevated performance in every respect. Superlatively natural mid-range comes courtesy of a dedicated 4-inch driver, specially designed with 'under hung' voice coil and motor system. This technique ensures the voice coil always remains in the magnetic gap under all conditions for demonstrably lower distortion than usually found at this level – an advance which can be immediately heard.
In perfectly mint condition and less than 5 months old! Receipt can be shown to prove age of speakers. Still under warranty. Comes with after-market speaker jumper wires, magnetic speaker grills and owner's manual.
Click here
for more info.
Click here
for full review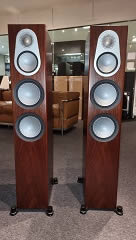 Retail Price:
$2,648
Price (SGD):
$1,850
High Fidelity Reveal Power Cord 1.5m
The Reveal was created with one particular goal in mind: to re-define the limits of magnetic conduction, a common-sense yet controversial technology. Magnetic Conduction by nature is so unique that these cables really shouldn't even be called "cables" as they work from a completely different electrical model.
Our cables are set apart with one basic difference in concept: They are designed with the fact in mind that they carry not electricity as we typically know it, but rather an energy known as electromagnetism. That very fact starts to define the inventive nature of magnetic conduction. It works not only in one realm of electrical energy, but on both the electrical and the magnetic portion of any electrical charge. By targeting the magnetic moment of the electons, High Fidelity Cables controls how the electrons move within the conductor and greatly reduces unwanted signal distortions that are inherent to typical audio grade conductors.
In near mint condition, with original carry case.
Click here
for more info.
Click here
for review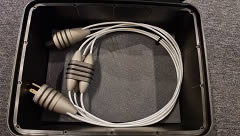 Retail Price:
$2,200
Price (SGD):
$1,200
Kii Control
The Kii CONTROL turns the Kii THREE into a complete playback system of highest sonic quality and usability. It offers a user interface for your speakers and works like a digital preamplifier.
The Kii CONTROL offers three additional digital inputs for the Kii THREE: Coax SPDIF, Optical TOSLINK and USB (up to PCM 24/384kHz and DSD64/DSD128 on USB). All inputs are located on the backside connector panel and can be activated with the touch buttons located around the volume knob.
A dedicated input button (labeled XLR) will switch to the existing hardware input on the speaker itself, which you can continue to use as analog or digital input. The Kii Control connects to the Kii THREE speakers with a single included CAT6 cable and is also powered through this connection. No additional power supply is necessary. Most importantly the Kii CONTROL enables lossless volume control inside the DSP of the Kii THREEs, keeping the signal path of the system as transparent as possible.
The big volume knob also offers mute or dim functions and manual power on/off (standby). A dedicated touch button provides direct access to up to six user definable presets. The menu navigation and OLED display vastly expand the options of the Kii THREE Boundary and Contour settings, while also providing access to more advanced system settings, including amongst others: manual power on/standby, LED brightness, DIM function and limiter indication. The main functions like volume, source and mute can also be remote controlled via your IR Remote (RC5 type or Apple Remote).
Brand new and never used! Complete with all accessories and original box.
Click here
for more info.
Click here
for review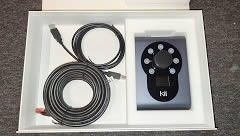 Retail Price:
$2,700
Price (SGD):
$1,300