Pre-owned Sales
The following products are available for sales and they can be inspected at our showroom. For sales queries, please contact
Cecil Tan (96176046)
. All prices listed are in Singapore Dollars (SGD), unless otherwise stated. This website is managed by Silbatone S.E.A. Read our
Terms & Conditions
for your reference.
Updated:
18 Nov 2022
View Sold Products
Pre-owned Search&nbsp&nbsp&nbsp
Air Tight ATC-2
The Airtight ATC-2 is a true, no-holds-barred, reference line stage. The rave reviews it's garnered since it's introduction have been unanimous in their praise of the ATC-2s superb transparency, amazing resolution of detail, beautiful craftsmanship, and ease of use. As with all Air Tight electronics, the ATC-2 is designed without printed circuit boards and is hand wired, point-to-point, for the purest signal path imaginable.
Click here
for more info.
Click here
for review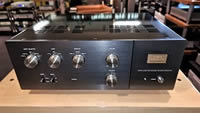 Retail Price:
$12,000
Price (SGD):
$5,950
Air Tight ATM-4
PERFECT PURSUIT OF SONIC PERFORMANCE
*Reputed 6L6GC beam-valve boasting of long history starting from military application
*UL connection enabling to offer affluent power and guts
*Low NF design for low distortion
*Adjuster pot & centre meter to assure optimum balance of push-pull operation
*Stereo/mono selector switch
*Select components for long-time listening pleasure
In near mint condition. Please Note: this unit is rated for 100v operation only! A high quality step-down transformer is included with the price.
Click here
for more info.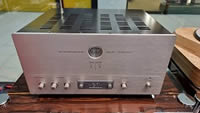 Retail Price:
$8,500
Price (SGD):
$4,200
XLO Signature Digital XLR 1m
XLO Signature Digital Cable XLR 1 Meter. In great condition, with original packing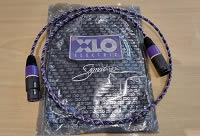 Entreq Tellus II Infinity Ground Box with Eartha Ground Cables
The original Tellus II was a very flexible ground box, It had 3 posts on all of which were completely isolated from one another, which makes it incredibly flexible to use within a system. The 2 outside ground posts on the original Tellus 2 were Silver Minimus and the centre post was a Silver Minimus with an Atlantis Minimus integrated into it (think of it as a turbocharged Silver Minimus).
The Tellus II Infinity follows the same concept, there are still 3 posts and there are all independent to one other, but on this version, the 2 outside posts are Silver Minimus Infinity and the centre post is now a single Olympus Ten!
In mint condition and looks like new. Packaged with 5 pcs Eartha Infinity Ground Cables. Original box also included.
Click here
for more info.
Click here
for full review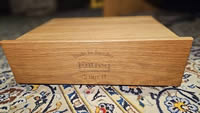 Gemme Audio Vivace V2
A single-driver design using the famous and very popular full-range Fostex FE108EZ 4" driver. At 92dB efficiency and 8 ohms, they are easy to drive with any amplifier and they especially match low powered tube amplifiers very well.
Specifications:
Single-driver small tower speakers
Vflex turbo-charging sub-bass technology
Natural sound Fostex FE108E Sigma 4" driver
Machined front and back baffles with surface vibration breaking V grooves
Minimal coloration through sturdy, heavily braced cabinets
Inside baffle panel asymmetric focal grooves break and spread standing sound wave
Gold plated Cardas multi function terminals
Tripod footing with integrated adjustable spikes
Sensitivity: 92dB 1W/1m
Impedance: 8 ohms
Recommended amplifier power: From 3.5 watts (tube amp friendly)
Frequency response: 20 - 18,000 Hz
Dimensions: 36" H x 10" W x 16" D
Weight: 80 pounds each (36 kg each)
Click here
for full review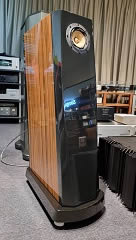 Retail Price:
$5,600
Price (SGD):
$1,800
Silbatone S.E.A. represents the following brands: Silbatone Acoustics, PS Audio, Audio Solutions, Audience, Bryston, Reed, Kronos, Gershman Acoustics, Audio Philar, My Sonic Lab, G.I.P. Laboratory and Flux Hifi.

Silbatone SQ-102 MK II
The SQ-102 Mk.II is a phono-only preamplifier incorporating various refinements that
emerged in the course of our R&D programs. The new SQ-102 features a new twist on JC Morrison's transconductance amplifiers using the German Post D3a. The all-important input stage sets the noise figure of the entire system and does much to establish its character. This first stage can swing 45V and the gain window is optimized for headroom to lessen record noise.
The phono EQ is craftily incorporated into the input stage circuitry as opposed to a separate lumped filter stage driven by the input stage, as found in most non feedback RC and LCR based preamps. This topology minimizes series components and enhances the dynamic and nuanced presentation we have come to expect from the D3a transconductance circuit.
Those who've listened to a Silbatone component will know instinctively that they are special. This is no different for the SQ-102 phono stage. A rare opportunity to own one at a now affordable price.
Click here
for more info.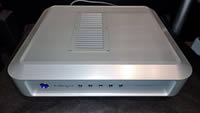 Retail Price:
$38,500
Price (SGD):
$19,900
Tchernov High Current Power Cord
Earlier generation Tchernov power cord for sale. Still in great condition and an excellent value at this price! 1.75m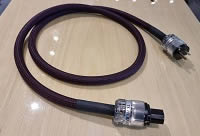 Retail Price:
$580
Price (SGD):
$180
Raidho C-2.2 Loudspeaker
The Raidho Acoustics C-2.2 is a 2.5-way floorstanding loudspeaker. It is built with the same unique qualities as the C-1.1, but with a somewhat larger cabinet and an additional Raidho Ceramix Driver. This relieves the workload on the upper Ceramix Driver, which results in a deeper bass and an even higher dynamic headroom. The extended bass frequency and the larger dynamic contrasts give the music performance more substance and a very natural tone colour.
SPECIFICATIONS
Size (WxHxD): 200 x 1055 x 470 mm (320 x 1150 x 510 mm incl. spikes)
Weight: 43,5 Kg
Freq. response 40 Hz – 50 KHz
Impendence: >4 ohm
Sensitivity: 86 dB 2.83 V/m
Crossover: 150 kHz 3 kHz 2. order
Enclosure: Vented design Port in rear panel
Drive units: 1 sealed ribbon tweeter 1 115 mm Ceramic mid-bass driver 1 115 mm Ceramic bass driver
In mint condition and looks like new! Amazing big, full-range sound in a compact cabinet. Must hear to believe!
Click here
for more info.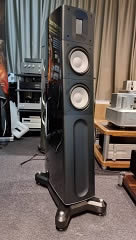 Retail Price:
$40,000
Price (SGD):
$15,500
Ansuz Mainz Diamond DTC Power Cord 20A 2m
Ansuz develops and manufactures cables based on advanced, cutting edge technologies. Ansuz cables deliver a pure signal flow that unleashes the authentic sound originally intended by the master recording. To achieve this, it is imperative to lower resistance, curb induction and reduce noise floor to a minimum. The more advanced the cable series, the more refined and sophisticated the implemented technologies, and the more transparent, holistic and authentic the resulting soundstage.

In mint condition, with original leather carrying case. Please note, this is the 20A version with C19 IEC connector.15A version also available, at the same asking price.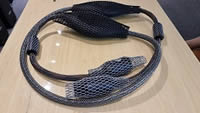 Retail Price:
$19,500
Price (SGD):
$8,000
SINE Mega X Power Distributor
The technology of cryogenic treatment unleashes its full potential in this appliance, providing a nearly-no-resistance pathway for electricity. The thick chassis is manufactured with state of the art machining and craftsmanship, from a single piece of aircraft-grade aluminium alloy. It acts just like a perfect shield against different kinds of interference. The product delivers the cleanest current to the receiving equipment.
In almost new condition, as shown in the pics. This is the flagship distributor from SINE.
Click here
for more info.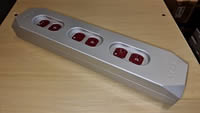 Retail Price:
$1,456
Price (SGD):
$800