Pre-owned Sales
The following products are available for sales and they can be inspected at our showroom. For sales queries, please contact
Cecil Tan (96176046)
. All prices listed are in Singapore Dollars (SGD), unless otherwise stated. This website is managed by Silbatone S.E.A. Read our
Terms & Conditions
for your reference.
Updated:
3 Aug 2022
View Sold Products
Pre-owned Search&nbsp&nbsp&nbsp
Silbatone RP-300 SET Power Amplifier
The RP-100 Amplifier takes our house recipe one step further, with results that surprised and delighted us. A new current feedback driver topology using a silver-wired interstage transformer, a select NOS 12AY7/6021, and a Bendix 6900 is directly-coupled all the way through to the 300B grid. Low distortion with big drive! There are no caps, only silver litz wire and tubes in the signal path. The output transformer is a monster version of our semi-silver foil output, built on an insanely large EI-114 75% nickel core. The power supply was also enhanced with an even bigger, low resistance transformer for maximum current delivery on demand.
The Silbatone RP-300 Amplifier will be a revelation for newcomers to the 300B and old hands alike. If you want to experience the highest level of performance available anywhere in a medium-power single triode amp, you must audition the RP-300!
In near mint condition, with original metal flight case. Supplied with genuine vintage WE 300B out tubes!
Click here
for more info.
Click here
for full review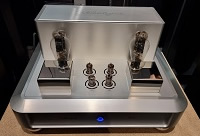 Retail Price:
$135,000
Price (SGD):
$49,000
Transparent OPUS MM2 RCA 10/15ft Cables
The story behind OPUS RCA only begins with its jewelry-quality, custom machined, gold-plated connectors that transfer power effortlessly through heavy, precision-wound OFHC stranding. OPUS RCA Interconnect is a significant performance upgrade compared to XL RCA Interconnect. OSE transfers well-defined bass energy to the bottom of the bottom octave and provides a quieter interface for low-level audio signals than XL RCA Interconnect.
Vibration and resonance control also go to new heights with OPUS. The components that comprise each network are encased in electrically neutral epoxy and surrounded by a carbon fiber network housing that has been contoured to reduce standing wave reflections. Carbon fiber is nonmagnetic, light, and stiff. The thinner, stronger network housing provides a larger cavity for damping epoxy loading, and the non-magnetic qualities of carbon fibre allow the free and full expansion of electromagnetic fields which results in more accurate transmission of micro dynamics and harmonic music information.
In mint condition, with original individual packing cases. This item is custom tuned for tube amplification.
Click here
for more info.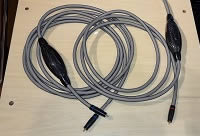 Retail Price:
$25,000
Price (SGD):
$11,500
Bryston BP-26 Stereo Preamplifier
The Bryston BP26 preamplifier offers a significant step forward in capturing the subtleties, nuances, and emotions of recorded music. All aspects of the signal flow are enhanced with lower noise and distortion figures, and higher load levels, offering a rich and vibrant audio experience.
In excellent condition, with optional MPS2 power supply upgrade.
Click here
for more info.
Click here
for full review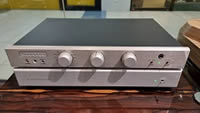 Retail Price:
$8,250
Price (SGD):
$3,990
Kimber Select KS-1021 1m RCA
Using improved field geometries and unique solid core conductors, the KS 1021 is a natural performer. Sharing design and construction techniques with the KS 1011, the 1021 offers the advantage of Black Pearl silver conductors for the signal and Hyper-pure copper conductors for the return.
Specification
*Solid core, Hyper-pure, molecularly optimised
*High pressure/low temperature V-Teflon dielectric
*Unique orthogonally braided matrix
*ESD (electrostatic discharge) yarn.
*WBT-0102 Ag nextgen phono plugs.
In near mint condition. Please note, this cable has the upgraded Ag Nextgen pure silver RCA plugs.
Click here
for more info.
Click here
for review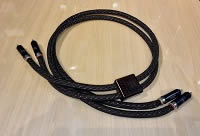 Retail Price:
$1,250
Price (SGD):
$680
Nordost ODIN 2 Tonearm Cable 1.25m
The Odin 2 Tonearm Cable consists of four silver-plated, solid core conductors wrapped in a patented Dual Mono-Filament suspension and protected by Nordost's Total Signal Control technology. These four TSC tubes are precisely arranged around a dedicated ground wire. As with all cables in our newest Supreme Reference Range, Odin 2 Tonearm Cables are terminated with customized, extremely low-mass HOLO:PLUG® connectors including Din, XLR and RCA. In fact, our new 5pin Din HOLO:PLUG® weighs a mere 7.2g, less than half the mass of conventional Din connectors. The intricate construction and groundbreaking innovations used in the production of this cable ensure the low levels of capacitance needed to maintain the integrity of such fragile signals.
In near mint condition, with original box and manual. Please note, this is the fully balanced version terminated with HOLO:PLUG® XLR connectors with built-in grounding wire.
Click here
for more info.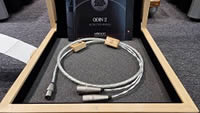 Retail Price:
$18,000
Price (SGD):
$9,500
Silbatone S.E.A. represents the following brands: Silbatone Acoustics, PS Audio, Audio Solutions, Audience, Bryston, Reed, Kronos, Gershman Acoustics, Audio Philar, My Sonic Lab, G.I.P. Laboratory and Flux Hifi.

Synergistic Research Tesla T3 Power Cord 5ft.
The TESLA T3 Active Power Cord is a high current variant of TESLA SE T2, with a special 4 conductor "T" Series geometry, and 2 high current Tricon geometries. TESLA T3 improves on our TESLA SE T2 as a high current power amplifier cable, delivering an enhanced holographic presence, with more air, and a seductive mid-range with a relaxed and musical balance. As a high resolution pre-amp / digital power cord, TESLA T3 has increased resolution and air due to its twin Tricon geometries when compared to TESLA SE T2. Thick yet flexible, the T3 is easy to work with and delivers excellent performance on amplifiers, with rich harmonic texture, and enhanced air and resolution on pre amps and digital components.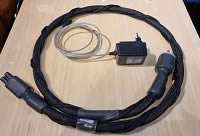 Retail Price:
$1,150
Price (SGD):
$550
Mark Levinson No.436 Monoblock Power Amplifier
The No.436 shares many design features with the dual-mono amplifiers in Levinson's 300 series. This includes robust, low-impedance power supplies and balanced circuit technology derived from the Mark Levinson No.33 and No.33H monoblocks.
The No.436 amplifier has Sherman-tank construction, an overkill power supply, and the best components money can buy, and its simpler internal construction has eliminated the time-consuming disassembly required to replace internal components of the 300-series amplifiers
Still in excellent condition and the internal circuitry and parts look like new! Purchased locally from the authorised distributor.
Click here
for more info.
Click here
for full review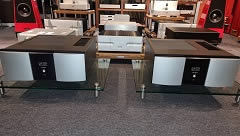 Retail Price:
$18,500
Price (SGD):
$7,500
Oyaide Tunami GPX-R V2 Power Cord 1.8 M
TUNAMI is a powerful, high-speed and dynamic power cable of a new generation. The short-pitch stranded PCOCC-A wire which has 5.5sq cross-section area actualizes high-power signal transmission. Its cable voltage endurance is 600V and maximum amperage is 30A. For noise protection, we specially developed the triple-layered shielding structure. It not only rejects internal and external noise, but also instantaneous spark noise due to vibration.
From the deep stillness of TUNAMI GPX-R, you can even sense the atmosphere of pre-performance of sound source.
Click here
for more info.
Click here
for review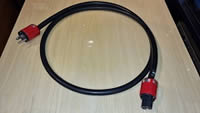 Retail Price:
$850
Price (SGD):
$299
Audio Note AN-S1 SUT
The AN-S1 is a passive device, designed to convert the mainly current output of your Moving Coil cartridge (MC) to a higher voltage, low current signal of sufficient strength to allow a Moving Magnet (MM) phono stage to amplify it to a suitable level.
The internal transformers used in the AN-S1 are manufactured by Audio Note (UK) exclusively, use the very best core materials and winding technology available at the price, and are housed in mu-metal screening canisters to minimise noise and interference.
Click here
for more info.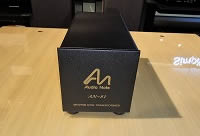 Retail Price:
$1,250
Price (SGD):
$680
Project 2.9 Wood Turntable
2 speed belt-drive turntable with solid wood plinth and platter clamp. Comes package with a Denon DL-110 high output MC cartridge. Ready to plug and play!
Retail Price:
$1,400
Price (SGD):
$650