Pre-owned Sales
The following products are available for sales and they can be inspected at our showroom. For sales queries, please contact
Cecil Tan (96176046)
. All prices listed are in Singapore Dollars (SGD), unless otherwise stated. This website is managed by Silbatone S.E.A. Read our
Terms & Conditions
for your reference.
Updated:
27 Nov 2023
View Sold Products
Pre-owned Search&nbsp&nbsp&nbsp
Vintage PILOT Stereo Tube Amplifier Model 232
Vintage stereo tube power amplifier, using EL84 output tubes. In excellent condition and plays perfectly.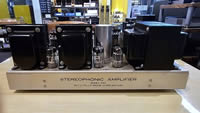 TARA Labs The 2 XLR Interconnects 1m Pair
The 2™ XL interconnects includes our legendary HFX "Floating Ground Station." The new insulation is modified by the addition of vacuum filled microscopic glass spheres that lower the dielectric absorption. Our patented shielding is then isolated from the termination and integrated into the wire leads.

TARA Labs proprietary SAOF-8N technology (Super-annealed, oxygen-free, frequency-tuned, OHH continuous-cast, 99.999999% pure copper conductor) creates an audio cable that is absolutely fantastic with all types of audio components. The cable is extremely detailed and rich in colour in the upper registers, a dynamic bass, and is dead quiet with both analogue and digital sources. The cable is very life-like in its musicality along with superb sound-staging and imaging.

The 2™ XL audio cable was created for both tube and digital amplification components.

In near mint condition, with chassis ground station and original box.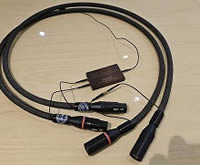 Retail Price:
$1,800
Price (SGD):
$800
Ortofon Quintet Mono MC Cartridge
This true mono cartridge features a nude elliptical r/R 8/18µm stylus that is a good solution for playing mono microgroove vinyl records. The Quintet Mono will track perfectly through even worn and damaged records and ensure the surface noise control.
Quintet Mono uses a strapped output to deliver the same output signal from both sets of pole pins. This effectively eliminates the need for mono-specific equipment, making it possible to enjoy true mono reproduction on any stereo playback system.
Features
*A special ABS (Acrylonitrile/Butadiene/Styrene) thermoplastic material is used for manufacturing of the body. This light-weight, impact resistant material is very suitable for injection-moulding and provides a very durable scratch resistant surface
*Neodymium magnets are implemented to achieve an optimal output
*Low internal impedance makes the cartridge less sensitive to load and therefore ensures compatibility with the widest range of preamps and transformers
Very lightly used and performs like new. With original packaging.
Click here
for more info.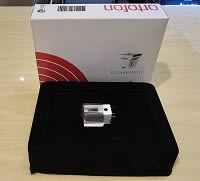 Retail Price:
$950
Price (SGD):
$480
Mark Levinson No.52 Preamp
The MArk Levinson ML52 is a reference quality design featuring a no-holds barred all-analogue, dual-monaural design arranged in a two-chassis system of discrete control and audio sections.
In the No.52's control section are mirror-imaged DC power supplies and AC regeneration circuits. The audio section employs a mirrored left/right channel configuration, which includes isolated and independent circuit boards for the volume, main and auxiliary signal paths, not to mention extensive shielding. Individual DC umbilical cables between the two chassis carry power to each audio channel while control signals are conveyed via a third connection to keep them isolated.
Click here
for more info.
Click here
for full review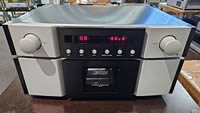 Retail Price:
$41,500
Price (SGD):
$18,500
Leben CS-600
Tube integrated amplifier hand-made in Japan. 32 watts per channel. Features ability to swap between 6L6G/5881 and El-34 output tubes. Seldom seen on the 2nd hand market and highly sought-after!
*Power Amp Direct Switch. (All functions by-pass only excepting Volume control)
*Muting Switch.
*Stereo/Reverse Switch.
*Variable Output Impedance: 4/6/8/16 Ohms.
*Tape Monitor Switch.
*Bass Boost Switch.
*Headphone Output.
*Speaker/Headphone Selector Switch.
*Tube Indicator Lamps.
*Operation Lamp Indicator.
Click here
for more info.
Click here
for full review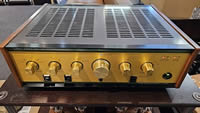 Retail Price:
$8,500
Price (SGD):
$5,000
Silbatone S.E.A. represents the following brands: Silbatone Acoustics, PS Audio, Audio Solutions, Audience, Bryston, Reed, Kronos, Gershman Acoustics, Audio Philar, My Sonic Lab, G.I.P. Laboratory and Flux Hifi.

Mark Levinson No.534 Power Amplifier
This fully differential, fully discrete, dual-monaural Pure Path amplifier drives virtually any loudspeaker effortlessly for impeccable imaging, musicality, and openness. A direct-coupled signal path; a highly linear, low-feedback design; and voltage gain and drive stages operating in class A, are joined by the modern system integration capabilities provided by Ethernet, RS-232, and USB for monitoring and network control. Housed in a 6000-series aluminium chassis, like all Mark Levinson equipment, the № 534 is designed and handcrafted in the USA.
Still current model, in near mint condition. Rated Class A in Stereophile's Recommended Component listing.
Click here
for more info.
Click here
for full review
Retail Price:
$34,000
Price (SGD):
$17,000
Atlas Mavros XLR 1m Pair
The Mavros XLR uses the very highest quality '6N' (99.99997% purity) copper manufactured using the OCC 'Ohno Continuous Cast' technique. In the manufacture of Mavros, we maximise the copper's conductivity by ensuring that there is typically one grain in approximately 125 metres of conductor, allowing the signal a continuous unbroken path –in practice, the signal has a faster, cleaner and more direct path to follow.
The cable consists of a pair of conductors, each made up from six bundles of 12 multi-conductor wires, plus a thicker centre wire. This in turn is covered by a continuous copper/Mylar™ electrostatic screen with copper shielding braid, ensuring minimal susceptibility to RF interference and noise.
Atlas use cold-weld terminations wherever possible, including our current generation 'dark Chrome' XLR connectors. By reducing the number of materials and break points in the signal path, our objective is to minimise discontinuity and loss in the signal path, resulting in more consistent construction and improved audio performance.
In near mint condition, with original box and papers.
Click here
for more info.
Click here
for review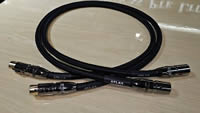 Retail Price:
$2,500
Price (SGD):
$1,200
Atlas Hyper DD XLR 1m Pair
The latest generation Hyper dd XLR interconnect offers a sophisticated, evenly balanced sound which draws you into the musical performance.
Balanced connector with optimum audio performance via 'trickle-down' dd technology.
The Atlas Hyper dd is constructed with four central multi-core conductors of high purity OCC (Ohno Continuous Casting) copper encapsulated within a low-loss foamed Polyethylene dielectric, with excellent immunity to interference and noise, making it ideally suited to longer cable runs. The cable is terminated with our low-mass solder-free XLR plugs.
Click here
for more info.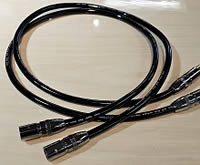 Retail Price:
$1,600
Price (SGD):
$800
Acoustune HS1695Ti In-ear Headphones
Acoustune HS1695Ti Myrinx driver in-ear monitor headphones has a balanced sound signature, with moderately boosted bass and trebles. It is significantly different sounding compared to the HS1670SS.
*Made in Japan
*Limited Edition
*Myrinx Composite Diaphragm
*Metal Body Shell
*Pure Audio Grade Cable
*Engineered Audio Connector Pentaconn EAR
Shell: Chamber 100% Titanium CNC milling & Housing 100% aluminum CNC milling
*Transducer: 10MM Single Dynamic Driver
*Impedance : 24 Ohm
*Sound Pressure Level : 110dB/mW
*Frequency Range : 10Hz - 25KHz
*Cable: Silver-coated OFC cable fitted with PentaconnEar*, L=1.2m (16-core). *PentaconnEar is NOT compatible with MMCX connectors.
*Plug: 3.5mm gold plated, L-Type
In as new condition, and comes with all accessories as shown in the pics.
Click here
for user review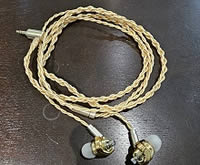 Retail Price:
$1,499
Price (SGD):
$790
Sonus Faber Amati Anniversario
With Amati Anniversario, Sonus faber celebrates the birth of Andrea Amati five hundred years ago, the great Maestro of stringed instrument making from Cremona (1505-1577). This new homage is a sound diffuser perpetuating the experience gained from the most significant Sonus faber project thus far: Stradivari homage. The lute-shaped cabinet efficaciously "harmonises" resonances while dedicating considerable attention to the most innovative aspect of the projects work in the Sonus faber tradition. Amati Anniversario has been created to breathe life into the melodious weft of the fabric of music, in all its nuances, making the listening experience an extraordinarily moving event.
In excellent condition with flawless piano lacquer wood finish.
Click here
for more info.
Click here
for full review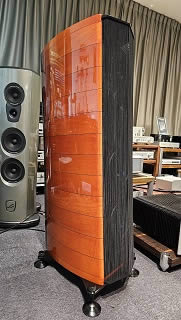 Retail Price:
$37,000
Price (SGD):
$13,200