Audience - Authorised Distributor
Audience is a highly respected US electronics company whose objective is to build the finest possible high performance audio components. It is a leader and trend setter in its unique approach to product design, execution and craftsmanship.
Audience is focused on building the best possible audio and video equipment. It took more than 14 years for the Audience team to bring their dream to market. They learned that the only factors that really determine what can be accomplished in any company are the extent of imagination and the perseverance required to transform visions into reality. This same dedication, imagination and passion for excellence is the cornerstone for all Audience products.
View product reviews
Audio cables are often referred to as accessories. However, an audio system cannot make sound without cables installed which implies that they are essential components. And much like the other components in the system, cables must be chosen with the same research that one would perform in choosing an amplifier, a speaker or a turntable. Characteristics such as coloration, distortion and other anomalies must be minimized in order for the system to perform at its optimum. Too often, audiophiles and music lovers treat these essential components as after thoughts and end up compromising the performance of their carefully chosen audio gear.

The idea of cables as components is a controversial subject. There are many who think that "wire is wire" and don't accept that cables can either optimize or compromise the performance of an audio system. Traditional tests for difference in cable reveal very little if any electrical differences between brands. However, the human ear/brain is a far more sensitive and discriminating test apparatus and deciphers differences in cable brands rather easily. This ability can be developed much like wine tasting. As you become more experienced, differences, shadings and nuance become more readily noticeable.

Audience cable products are the end result of years of research into what matters most in an audio system…true fidelity to the signal without artificial embellishments or unwarranted voicing. Audience cables are products that have been designed to authentically preserve the audio signal in the least damaging fashion possible. "Neutral" or "natural" are the terms we hear most often when end users describe their performance.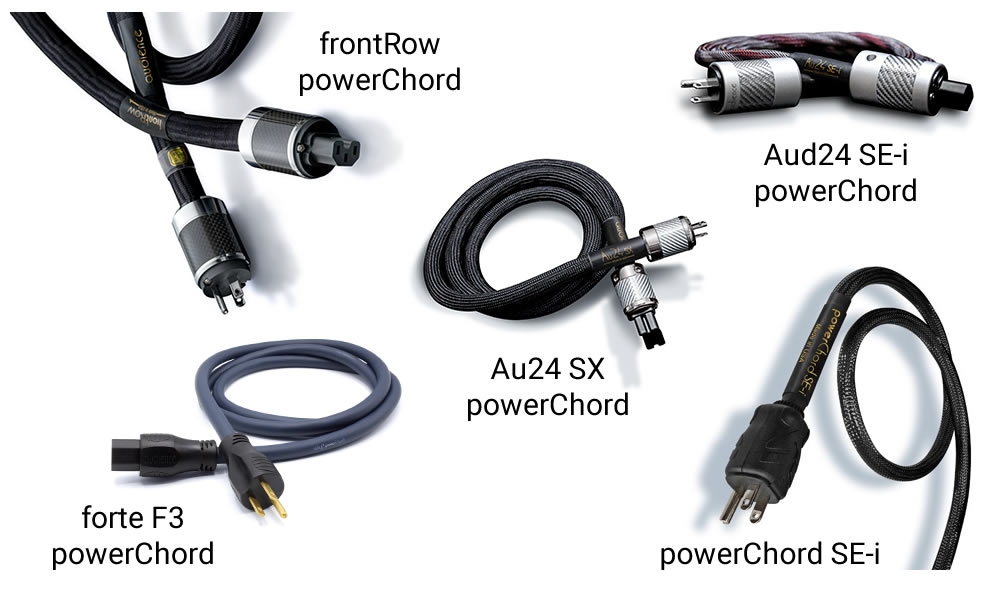 No other component engenders more controversy than aftermarket power cords. Traditionalists will often wonder what difference a power cord can make when the electricity has traveled through miles of electric lines to get to your wall outlet. The real question to be asked is, "what kind of damage does your audio component sustain by using a standard small gauge power cord?" The answer to that question is, "plenty".

By their very design, stock power cords impede transients, radiate electromagnetic noise and resist the smooth flow of electricity between the component and the electrical source. More often than not, they are "reactive" meaning that their design introduces capacitance, inductance and resistance into the electron flow which will compromise the interface between the component and the power source creating systemic noise and loss of performance. In addition, they often act as antennas in their ability to attract radio frequencies. As one can see, the innocuous looking power cord can introduce major distortion in an audio system.