Audio Solutions - Authorised Distributor
Laws of physics with design combined with manufacturing stability and customers' needs are used to make perfect speakers after years of hard work and research. Every smallest part is hand crafted and inspected for any flaws.
Gediminas Gaidelis, an acoustic and electrical engineer who, though only in his early 30s, is already greatly experienced as an audio designer, founded AudioSolutions in 2011. Gaidelis has been building them seriously since he was a teenager and his interest in woodworking and electronics goes back further than that: At the age of five, young Gediminas extracted a couple of drivers from a Soviet entertainment console and installed them in a cardboard enclosure with steel bolts for binding posts. They worked.
Before AudioSolutions, Gaidelis had a successful run building loudspeakers for the local Lithuanian market, but the demand for high-performance products costing more than 1000 euros wasn't great and, after several years of R&D, Gaidelis raised his sights and launched AudioSolutions. He now has six employees and has cultivated significant markets in Poland, Germany, and China, with distribution in a total of 25 countries.
View product reviews
In the six development, Audio Solutions offers much more efficient production and much better sound quality which is due to the specific Self-Locking cabinet technique, the use of mini-horn for tweeter and other unique features used in all speakers. Designed to look solid, timeless and be accent of the living room or disapper in it with the help of 17 different unique finishes. All floor standing models are 3-way systems with midrange working iun wider than usual region fr reduced crossover distortions in most critical area for the human ear.
Download
Figaro Product Brochure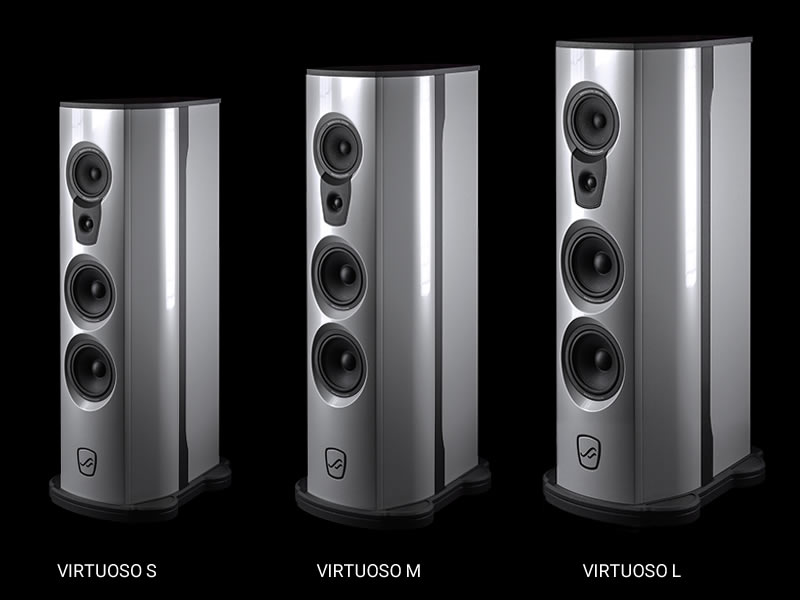 Virtuoso series employs much of the advanced technology originally developed for the company's flagship Vantage 5th-anniversary series. Virtuoso series sits comfortably between AudioSolutions' Figaro and Vantage 5th anniversary series. It uses box-in-a-box cabinet system design and bi-wiring WBT Nextgen binding posts. The series has dual high-flow bass reflex and adjustable harmonics crossover. Mini-horn is introduced here to enhance tweeter performance by lowering distortions and raising efficiency in critical region. It has state of the art extended band midrange unit which is designed in-house and can ensure 500 - 7000Hz band output. This series is offered in four standard finishes: Pearl White, Silver Grey, Zinc Grey and Black.
Download
Virtuoso Product Brochure